---
Current promotions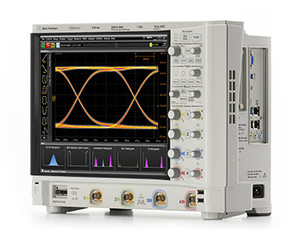 Keysight Infiniium S-Series oscilloscopes promotion
Purchase any new Infiniium S-Series oscilloscope and select ONE of three FREE offers:
Offer #1: Get a 350 MHz InfiniiVision oscilloscope (DSOX3034T) for free
Offer #2: Get the new Infiniium Protocol Decode Software Bundle (supports 32 protocols) for

free. This is a 12-month fixed license N8888A-1FL.

Offer #3: Get 400 Mpts/channel memory for free (DSOS000-400)
Promotion valid: August 1st to December 1st 2018
Promo code: 6.029
Closer information HERE.
Promotional flyer for download HERE.
---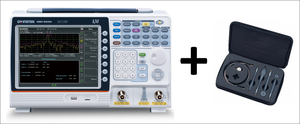 GW Instek GKT-008 Probe Kit Set for free with purchase of GSP-9330 spectrum analyzer
If you purchase GW Instek GSP-9330 or GSP-9330TG spectrum analyzer, you will recieve a GW Instek GKT-008 Probe Kit Set for free.
Main features of GSP-9330:
Frequency range: 9 kHz - 3.25 GHz
Frequency stability: 0,025 ppm
Sensitivity: -149 dBm/Hz
RBW: 1Hz - 1MHz (3dB), 6dB EMI Filter: 200Hz, 9kHz, 120kHz, 1MHz
Built-in P1dB point, Harmonic, CHPW, OCBW, ACPR, SEM, TOI, CNR, CTB, CSO, N-dB bandwidth, Noise Marker, Frequency Counter, TDP, Gated Sweep
Built-in 2FSK Analysis, AM/FM/ASK/FSK Demodulation & Analysis
Built-in Preamplifier, 50dB Attenuator, and Sequence Function
Remote Control Interface: LAN, USB, RS-232
Built-in Spectrogram, Topographic and Split-Window Display Modes
Remote control EMI measurement software: SpectrumShot
Options: Tracking Generator, GPIB Interface, Battery Pack
GW Instek GKT-008 Probe Kit Set consists of:
1 x PR-01 AC voltage probe, 150 kHz – 30 MHz
1 x PR-02 Touch passive RF probe, 30 MHz – 3 GHz
1 x ANT-04 H-field probe, 30 MHz – 3 GHz
1 x ANT-05 H-field probe, 30 MHz – 3 GHz
1 x ADP-002 Adaptor SMA (J/F) – N (P/M)
1 x GTL-303 RF cable SMA (P/M) – SMA (P/M)

Promotion is valid: 1.4. – 30.9.2018
---


20% discount for GW Instek PSW-Series DC power supplies
Until 30.9.2018 are all DC power supplies GW Instek PSW-Series available for specil price – with 20% discount.
Main features of PSW-Series:
Voltage Rating: 30V / 80V / 160V / 250V / 800V
Output Power Rating: 360W - 1080W
CV/CC Priority; Particularly Suitable for the Battery and LED Industry
Series Operation: Up to 2 units (30V, 80V, 160V models only)
Parallel Operation: Up to 3 units
High Efficiency and High Power Density
Standard Interface: LAN,USB,Analog Control Interface
Optional Interface: GPIB-USB Adaptor, RS232-USB Cable
Promotion is valid until: 30.9.2018
---


Free extended voltage or frequency option with purchase of any APS-7000 AC power source
In case of purchase APS-7000 AC power source you get extended voltage option (opt. APS-003) or extended frequency option (opt. APS-004) for free. If you are interested, please write selected option in the note in your order.
Main features of APS-7000:
4.3-inch TFT-LCD
Output capacity : APS-7050(500VA/310Vrms/4.2Arms), APS-7100 (1000VA/310Vrms/8.4Arms)
Instrument hight only 88 mm (2U)
Measurement and test functions include VOLT/CURR/PWR/SVA/IPK/IPKH/FREQ/PF/CF
Support a small AC current measurement 2mA - 35A, min. resolution 0.01mA
Standard Interfaces: USB Host, USB Device, LAN
Promotion is valid: 1.4. – 30.9.2018
---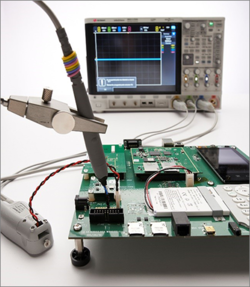 Pick Your Probe for Free!
The InfiniiVision X-Series oscilloscopes are designed to get your job done simpler and quicker. The industry's best update rate helps you see problems faster, a responsive and intuitive GUI makes operation simpler, and our extensive suite of applications helps you solve any problem with ease. Now you can get one of Keysight's unique probing solutions completely free!
For a limited time, with the purchase of a new 3000T, 4000X, or 6000 X-Series oscilloscope AND a qualifying application bundle (DSOXT3APPBNDL, DSOX4APPBNDL or DSOX6APPBNDL) you can choose ONE of the following probes for FREE:

N2796A - general-purpose single-ended active probe with 2 GHz of bandwidth
N2818A - general-purpose differential active probe with 200 MHz of bandwidth
N2820A - 2-channel AC/DC current probe
N7020A - 2 GHz power rail probe
Promotion period: 1.3.2018 – 31.8.2018
Promo code: 6.025
The qualifying oscilloscope, application bundle and probe must be on the same purchase order.
Promotion cannot be combined with other Keysight promotions.
Keysight Technologies reserves the right to modify or discontinue this offer during the promotional period.
More information HERE.
---
---
H TEST a.s.
Šafránkova 3
155 00 Praha 5
+420 235 365 207
+420 235 365 204
Newsletter
Product news, invitations for fairs, seminars and trainings. We send electronically max. 3 times/month.
© 2018 H TEST a.s.
Created by eBRÁNA s.r.o. | Powered by CMS WebArchitect | SEO a internetový marketing