---
Current promotions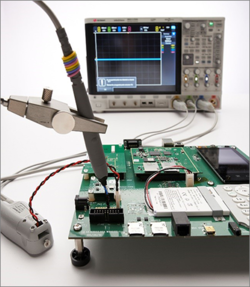 Pick Your Probe for Free!
The InfiniiVision X-Series oscilloscopes are designed to get your job done simpler and quicker. The industry's best update rate helps you see problems faster, a responsive and intuitive GUI makes operation simpler, and our extensive suite of applications helps you solve any problem with ease. Now you can get one of Keysight's unique probing solutions completely free!
For a limited time, with the purchase of a new 3000T, 4000X, or 6000 X-Series oscilloscope AND a qualifying application bundle (DSOXT3APPBNDL, DSOX4APPBNDL or DSOX6APPBNDL) you can choose ONE of the following probes for FREE:

N2796A - general-purpose single-ended active probe with 2 GHz of bandwidth
N2818A - general-purpose differential active probe with 200 MHz of bandwidth
N2820A - 2-channel AC/DC current probe
N7020A - 2 GHz power rail probe
Promotion period: 1.3.2018 – 31.8.2018
Promo code: 6.025
The qualifying oscilloscope, application bundle and probe must be on the same purchase order.
Promotion cannot be combined with other Keysight promotions.
Keysight Technologies reserves the right to modify or discontinue this offer during the promotional period.
More information HERE.
---


Special Keysight Technologies promotion for educational institutions: Purchase the instrument and software together and save 35% of their price!
Proper software application can often significantly increase the usability of the instrument. With the right software, you can analyze the measured signal in detail, automate testing, or create measurement reports. Keysight Technologies has therefore decided to favor customers from educational institutions (secondary and higher education institutions, institutes of the Academy of Sciences), who order one of the selected software applications together with selected measuring instrument.
If you purchase one of selected Keysight Technologies measuring instrument together with one selected software between September 15, 2017 and March 31, 2018, you will get an extra discount of 35% for both products. A list of selected hardware and software products affected by this action can be found HERE.
Other conditions:
products must be listed together on one order and in the same quantity, i.e. 1 "software" for each 1 "hardware";
discount is not combinable with other promotions and discounts;
the promotion applies only to newly-ordered devices;
Keysight Technologies reserves the right to change or terminate this promotion at any time without prior notice.
Include your promo code in the order: 6.020
Validity: 15.9.2017 - 31.3.2018
Promotion website: www.keysight.com/find/edu-hardware-software
If you have any questions or concerns, please contact us at info@htest.cz.
---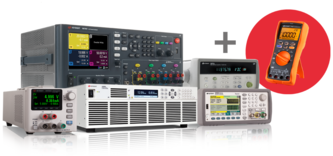 Big 5 bench promo PLUS
If you purchase between October 1st 2017 and March 31st 2018 one of below listed products, you will get Keysight U1282A in price of 577 Eur (excl. VAT) for free. How it works? You will register your ordered product after delivery (registration page HERE) and within four weeks you will recieve U1282A multimeter directly from Keysight.
Promotion valid: 1.10.2017 – 31.3.2018
Promo code: 6.023
Closer info: http://www.keysight.com/find/big5benchplus
Products:
N6700B/C Low-Profile Modular Power System Mainframe, 400 W
N6701A/C Low-Profile Modular Power System Mainframe, 600 W
N6702A/C Low-Profile Modular Power System Mainframe, 1200 W
N6705B/C DC Power Analyzer, 600 W
34970A Data Acquisition/Switch Unit with GPIB & RS232
34972A LXI Data Acquisition Switch Unit with LAN & USB
33611/2A Waveform generator, 80 MHz, single & dual channel models
33621/2A Waveform generator, 120 MHz, single & dual channel models
E36300A Programmable DC Power Supplies
B2901/2/11/12 Precision SMU
B2961/2A Low-Noise Power Source
B2981/3/5/7A Picoammeter/Electrometer
---
---
H TEST a.s.
Šafránkova 3
155 00 Praha 5
+420 235 365 207
+420 235 365 204
Newsletter
Product news, invitations for fairs, seminars and trainings. We send electronically max. 3 times/month.
© 2018 H TEST a.s.
Created by eBRÁNA s.r.o. | Powered by CMS WebArchitect | SEO a internetový marketing