---
Measurement data telecommunication networks
Because not all of the products listed below are available in all of the countries we supply, please, check availability in our suppliers section.
Intec
Handheld analyzers of access networks xDSL, Ethernet, ISDN and POTS

Spectracom
Ixia
Real world load testing solutions of network infrastracture and equipment. IT security test solutions.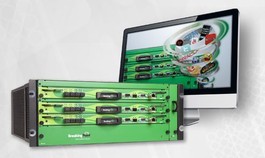 OHB DIGITAL
XPLORA – GNSS Signal simulation

For optimization of resources and time in development, qualification and certification of GNSS equipment and GNSS applications. GNSS equipment development requires testing under controlled conditions. Engineers, scientists, manufacturers, and system integrators involved in GNSS development must be able to control test conditions, repeat tests precisely, simulate new satellite constellations and signals in advance (before the systems and signals are even available), and perform realistic tests in GNSS denied environments (without a line of sight to the satellites). With XPLORA system integrators, GNSS equipment manufacturers and users, governmental authorities, and armed forces in a navigation warfare scenario can harden their GNSS-based infrastructure or equipment against interference.

GNSS Quality Assurance

Global Navigation Satellite Systems (GNSS) positioning and timing services form the backbone of many applications and markets. Civilian GNSS services are free of charge and globally available but insufficiently protected against unintentional and even intentional disturbances. OHB Digital Solution researches for more than 20 years on how to provide means to monitor and augment the GNSS services with GNSS quality assurance. For many applications, it's not only precision that matters, but predominantly integrity too! Our knowledge and experience in GNSS quality assurance are available in many different forms in our GIDAS product family.
---
---
H TEST a.s.
Šafránkova 3
155 00 Praha 5
+420 235 365 207
+420 235 365 204
Newsletter
Product news, invitations for fairs, seminars and trainings. We send electronically max. 3 times/month.
© 2023 H TEST a.s.
Created by eBRÁNA s.r.o. | Powered by CMS WebArchitect | SEO a internetový marketing