---
Current promotions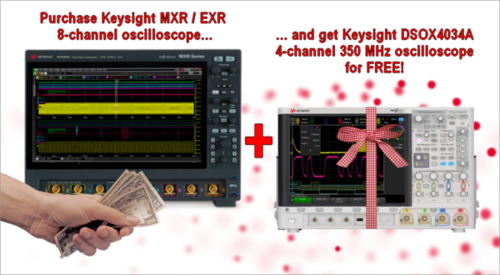 Purchase ANY new 8-channel Keysight Infiniium MXR Series or EXR Series oscilloscope and get DSOX4034A 350 MHz 4-channel oscilloscope worth 10.775 EUR for FREE.
Offer is valid 1.9.2021 – 28.2.2022
Promo code: 6.050
More detailed information about this promotion is available HERE.
---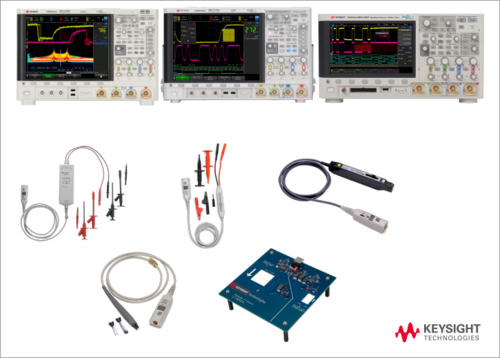 New oscilloscopes bundles with accessories for specific measuring applications now with a 25% discount!
Do you need a new oscilloscope and accessories or measuring applications that will exactly meet your requirements, but you do not know which accessories to choose from the wide range? Keysight introduced pre-configured application-specific bundles that can be simply ordered under a single model number.
Six different bundles of products optimized for automotive, power, and jitter test & debug are available. Choose the one that best fits your measurement application & budget and save 25% off the list price relative to purchasing the same items individually.
Closer information available HERE.
Product sheet HERE.
Informational flyers to particular bundles:
Automotive Bundle Flyer
Power Bundle Flyer
Jitter Bundle Flyer
In case of any questions, please, contact us on .
---
Every month a new product with special discount! The "Product of the Month" promotion starts now.
Starting on June 1, 2021, in cooperation with Keysight, we are launching a promotion, during which we will announce every month the "Product of the Month". This product will be available for purchase at a discounted price, not only in the given month, but also in the following two months. Eligible products will be displayed on this page, so please check our website regularly.
Product of the month November:


Keysight EDUX1052A/G oscilloscopes

Discount 10%

Action price valid: 1.11.2021 - 31.1.2022

Product sheet
E-shop: EDUX1052A / EDUX1052G

Product of the month December:


Keysight RF/MW accessories

Discount 10%

Action price valid: 1.12.2021 - 28.2.2022

Eligible products:
8491B Coaxial Fixed Attenuator, DC to 18 GHz
8493C Coaxial Fixed Attenuator, DC to 26.5 GHz
8494A Manual Attenuator, 4 GHz, 11 dB, 1 dB steps
8494B Manual Attennuator, 18 GHz, 11 dB, 1-dB Steps
8495H Program. Attenuator, 18 GHz, 70 dB, 10-dB Steps
8496A Manual Attenuator, 4 GHz, 110 dB, 10 dB Steps
8496B Manual Attenuator, 18 GHz, 110 dB, 10 dB Steps
8498A High Power Attenuator, DC to 18 GHz

Product of January:


Keysight 82357B
USB/GPIB Interface

Discount 10%

Action price valid: 1.1.2022 - 31.3.2022
---


Get a Free Handheld LCR Meter
For a limited time, receive a free Keysight U1733C handheld LCR meter with the purchase of one of the following Keysight power supplies:
How to proceed? In 3 simple steps:
1) Purchase any one of the promotion qualifying products during the Promotion Period
2) Once product received, fill in required details in the claim page at www.keysight.com/find/FreeLCRClaim
3) Receive your Free LCR Meter directly from Keysight
Other conditions:
- Lease/demo orders and remarketed equipment are not eligible for this promotion
- This promotion cannot be combined with other offers or promotions
- Keysight Technologies reserves the right to modify or discontinue this offer during the promotional period
Promotion period: 15.4.2021 – 31.5.2022
Promo code: 6.049
---
---
H TEST a.s.
Šafránkova 3
155 00 Praha 5
+420 235 365 207
+420 235 365 204
Newsletter
Product news, invitations for fairs, seminars and trainings. We send electronically max. 3 times/month.
© 2022 H TEST a.s.
Created by eBRÁNA s.r.o. | Powered by CMS WebArchitect | SEO a internetový marketing