---
GW Instek GSP-818 Spectrum Analyzer: Solid performance for affordable price
30.08.2019 06:26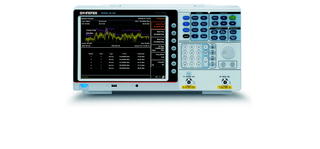 GW Instek's GSP-818 is a new general purpose spectrum analyzer at a very attractive price, which supports a frequency range of 1.8 GHz and provides testing requirements for RF products during the development/production phases. GSP-818 has a built-in 20dB amplifier and provides an adjustable range of resolution bandwidth (RBW) from 10Hz to 3MHz. In addition, it has the AM/FM signal demodulation function and the ACPR/OCBW/CHPW test functions to meet the requirements of general RF signal measurement.
In addition, the built-in Time Spec function of GSP-818 can simultaneously view the correlation between display power, frequency and time. The Bandwidth Zoom function can be used to view the spectrum performance of signals under different Span. The Limit Line function provides two different Limit Line settings: Windows Measure and Limit Line Measure. Users can use these functions for a wider range of measurement applications.
To achieve clearer signal observation, GSP-818 utilizes a 10.4" large screen with SVGA (800 x 600 px) resolution. Pertaining to the communications interface, GSP-818 provides both USB and LAN interfaces. Via the USB Host, users can quickly retrieve the files saved after measurements. The USB Device and LAN interface allow users to control through the dedicated PC software or to use the required program designed by the corresponding commands.
GSP-818 optionally offers also Tracking Generator and EMI Filter & Detector, which can be simply activated by Keycode of purchased software license.
Main features overview:
Frequency Range: 9kHz - 1.8GHz
RBW: 10Hz - 3MHz
Sensitivity: -148dBm/Hz Typical@PreAmp On
Built-in AM/FM Demodulation
Bandwidth Zoom Function
Measurement Function: ACPR/OCBW/CHPW, NdB Bandwidth, Freq. Counter, Noise Marker
Built-in 20dB Preamplifier Standard
Interface: Lan, USB
Screen: 10.4" SVGA (800x600 px)
Options: Tracking Generator, EMI Filter & Detector
Detailed information are available HERE.
Product sheet (PDF) can be found downloaded HERE.

For actual prices see our e-shop: https://eshop.htest.sk/gw-instek-spectrum-analyzers
---
---
H TEST a.s.
Šafránkova 3
155 00 Praha 5
+420 235 365 207
+420 235 365 204
Newsletter
Product news, invitations for fairs, seminars and trainings. We send electronically max. 3 times/month.
© 2020 H TEST a.s.
Created by eBRÁNA s.r.o. | Powered by CMS WebArchitect | SEO a internetový marketing