---
Microrad NHT 3DL Signal Analyzer – New reference meter for the European Directive 2013/35/EU
08.10.2019 06:16
Microrad company introduced a new NHT 3DL signal analyzer designed to measure electromagnetic fields in compliance with all the main international standards and regulations.
A new powerful, light, compact, fully non-magnetic NHT 3DL analyzer offers a frequency range 100 kHz – 40 GHz (wide band mode) or DC – 1 MHz (selective mode), on board measurements of electromagnetic field characteristics in both time and frequency domains or weighted peak measurement (WP10) in real time and can be completely remotely controlled via fiber optic or wireless (Wi-Fi) connections.
Analyzers are equipped with a section for complex signal analysis composed of an FFT analyzer and an oscilloscope, working in several modes:
Broadband operating mode with RF probes from 100 kHz to 40 GHz, specifically designed for the radar sources recognition and measurement, allows demodulation of the pulse signal base band up to 500 ns, with automatic measurement of Tau, PRF and Duty Cycle values.
FFT Analysis mode covers 1 MHz band in four decades, 1/10/100/1,000 kHz with 1.000 points resolution per decade and includes automatic peak search markers.
Oscilloscope mode - displays high-definition time frames with manual trigger function and Amplitude/Time marker.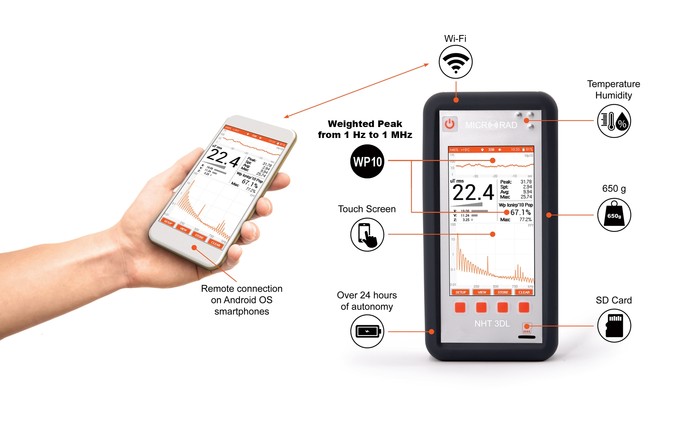 With over 24 hours of operating autonomy, virtually unlimited memory and the ability to adapt to future regulatory requirements using its completely reprogrammable system and structure, NHT 3DL is suitable for use in the areas of 5G applications, automotive/railway electric traction industry, medical diagnostics field and wherever regulated industrial activities exist.
More information HERE.
---
---
H TEST a.s.
Šafránkova 3
155 00 Praha 5
+420 235 365 207
+420 235 365 204
Newsletter
Product news, invitations for fairs, seminars and trainings. We send electronically max. 3 times/month.
© 2020 H TEST a.s.
Created by eBRÁNA s.r.o. | Powered by CMS WebArchitect | SEO a internetový marketing