---
Most affordable Keysight SMUs ever – B2900BL series starts at 3.918,- EUR
02.12.2020 13:45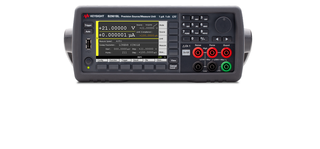 Keysight Technologies introduced new line of low cost SMUs which enable accurate DC I/V characterization from lab to manufacturing at the lowest cost ever. Both new models B2901BL and B2910BL provide highly accurate and fast measurement, innovative GUI for easy control and wide offering of accesories for connecting device under test. Main technical specifications can be found in below table:
Model
B2901BL
B2910BL
Number of channels
1
1
Output range
Max. voltage
21 V
210 V
Max. current
1,5 A
1,5 A
Source resolution
Digit
5,5 digit
5,5 digit
Min. voltage
1 µV
1 µV
Min. current
10 pA
100 fA
Meas. resolution
Digit
6,5 digit
6,5 digit
Min. voltage
100 nV
100 nV
Min. current
1 pA
10 fA
Price of new Keysight SMUs starts at 3.918,- EUR (B2901BL) which makes it most affordable solution for precise characterisation of semiconductor components, new material and other applications which require precise current and voltage measurements.
---
---
H TEST a.s.
Šafránkova 3
155 00 Praha 5
+420 235 365 207
+420 235 365 204
Newsletter
Product news, invitations for fairs, seminars and trainings. We send electronically max. 3 times/month.
© 2021 H TEST a.s.
Created by eBRÁNA s.r.o. | Powered by CMS WebArchitect | SEO a internetový marketing