---
New 30 kW regenerativ two-quadrant DC power supplies Keysight RP7980
06.08.2021 07:51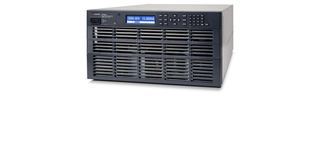 With the new 30 kW sources RP7982A & RP7983A counts the family of two-quadrant DC power supplies RP7900 now totally 12 different models. All models are able in the load mode to regenerate power back to the grid with up to 90% efficiency. This significantly reduces electricity usage and heat dissipation during the tests.
RP7982A maximum output voltage is 1000 V, for RP7983A is output voltage up to 2000 V. Users can connect in parallel up to 20 units and create two-quadrant DC power supply with total power up to 600 kW.
All RP7900 family power supplies have following features:
generating fast voltage and current transients (sub ms range)
integrated arbitrary generator
internal digitizers for precize measurements of output voltage and current
special photovoltaic emulation modes
complex set of DUT and user protection functions
compatible with BenchVue Advanced Battery Test and Emulation Software
Detailed technical specifications of regenerative DC power supplies RP7900 are available HERE.
---
---
H TEST a.s.
Šafránkova 3
155 00 Praha 5
+420 235 365 207
+420 235 365 204
Newsletter
Product news, invitations for fairs, seminars and trainings. We send electronically max. 3 times/month.
© 2021 H TEST a.s.
Created by eBRÁNA s.r.o. | Powered by CMS WebArchitect | SEO a internetový marketing