---
See more, do more and save time with NEW Keysight Infiniium MXR-Series, the world's first 8-Channel RTSA Oscilloscope
18.05.2020 09:54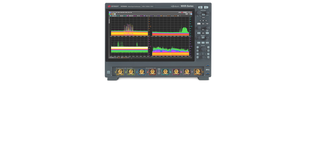 Seeing intricate interactions of complex designs means seeing more signals in new ways. Get from symptom to resolution fast by coupling the efficiency of an 8-in-1 bench solution with unprecedented simultaneous 8 channel performance of Keysight´s NEW MXR-Series oscilloscopes. With twelve models ranging in performance from 500 MHz to 6 GHz, 4 or 8 analog channels, and dozens of hardware and software options, the Infiniium MXR-Series is designed to meet your needs today. And with a platform that is fully upgradeable – with no exceptions - it will be ready for your measurement needs tomorrow.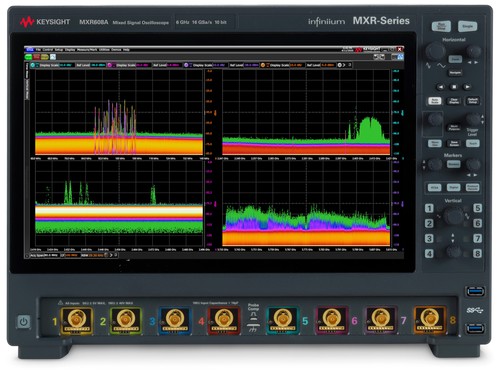 Main features:
Analog channels 4 or 8, upgradeable
Bandwidth 500 MHz to 6 GHz, upgradeable
Sample rate 16 GSa/s on all channels
Memory 200 Mpts, upgradeable to 400 Mpts
Resolution 10 bits, up to 16 bits with high resolution mode
ENOB as high as 9.0
Timebase accuracy 8 parts per billion
Intrinsic jitter as low as 118 fs
Noise (1 mV/div) as low as 43 µV
Digital logic channels 16, dedicated input, upgradeable
Integrated tools 8-in-1
Eye diagram speed >750,000 UI/s
Screen display 15.6" touch, full HD, dual screen support
All MXR-Series models overview is available HERE.
Product sheet HERE.
See More:
The Infiniium MXR-Series is the first oscilloscope to offer 6 GHz bandwidth and 16 GSa/s sample rate on every single one of its eight channels. Each model incorporates a 10-bit ADC with a sample rate of 16 GSa/s available on all channels simultaneously. Available is a history mode to to review up to 1,024 previous trigger events or segmented memory for capturing up to 5,205 events post-trigger for analysis, with no limit between events. The RTSA view for powerful RF analysis with up to 8 phase-coherent channels provides spans from 40 MHz to 320 MHz.



Do more:
The Infiniium MXR-Series integrates eight instruments in one (oscilloscope, logic analyzer, Real-Time Spectrum Analyzer, Serial protocol analyzer, Function generator, Frequency response, Digital voltmeter, Triple counters with totalizer, Phase noise testing) to establish a new integration standard, with the first ever realtime spectrum analyzer on an oscilloscope.
Save time:
The Infiniium MXR-Series leverages a 100M+ gate CMOS ASIC from UXR-Series oscilloscope, so performance of some features improved by 100x or more over previous generations, including:
Triggering and plotting: 200x faster
Eye diagrams: 50x faster
FFT plotting: 400x faster
Waveform averaging: 120x faster

Being able to analyze and find the root cause of the problems can help you develop a more robust design, leading to shorter time to market and lower failure rates in the field. The Infiniium MXR-Series is fully upgradable and offers applications of various levels of depth to help you get the answers you need to improve your design. So you will see more, do more, save time and confidently solve today and tomorrow´s challenges!
---
---
H TEST a.s.
Šafránkova 3
155 00 Praha 5
+420 235 365 207
+420 235 365 204
Newsletter
Product news, invitations for fairs, seminars and trainings. We send electronically max. 3 times/month.
© 2021 H TEST a.s.
Created by eBRÁNA s.r.o. | Powered by CMS WebArchitect | SEO a internetový marketing