---
All-new DC power supply Chroma 62000E with up to 3x 1,7 kW output in 1U!
12.11.2021 06:42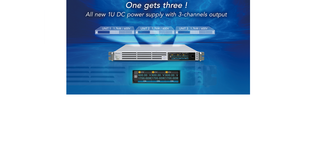 New DC power supplies Chroma 62000E
Chroma ATE launches the 62000E series of 1U DC power supplies with 3-channel output. This brand new addition to Chroma's line of power supplies adopts full digital circuit control and high-power SiC MOSFET power devices as well as high-speed stability, high-power density, and 92% high efficiency. The 28 models offer either single-channel or 3-channel output, output power from 1.7kW to 5kW per channel, voltage output ranging of 230V to 1200V, and output current up to 22.5A.
The main features of this new family of power supplies are:
Voltage rating: Up to 1200V
Current rating: 22.5A max.
Single output models: 1.7kW, 3.4kW, 5kW (in the first phase only 1,7 kW models available)

Multiple output models: 3x1.7kW channels in 1U

Master/slave parallel up to a max of 20kW
Fixed or Auto-ranging output models
Auto sequence programming
CV/CC modes priority
High-precision measurement
High speed transient response <1ms
Low output ripple & noise
Intuitive and user-friendly touch screen
Standard USB/LAN/LXI interfaces
Optional APG, CAN FD, GPIB interfaces
Detailed information about new DC power supplies Chroma 62000E can be found HERE.
---
---
H TEST a.s.
Šafránkova 3
155 00 Praha 5
+420 235 365 207
+420 235 365 204
Newsletter
Product news, invitations for fairs, seminars and trainings. We send electronically max. 3 times/month.
© 2022 H TEST a.s.
Created by eBRÁNA s.r.o. | Powered by CMS WebArchitect | SEO a internetový marketing