---
Excellent accuracy, refurbished components and new look. The popular ''king of multimeters'' is back.
11.12.2019 06:38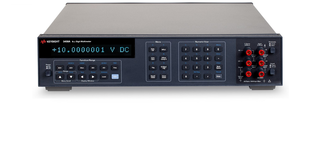 The legendary Keysight 3458A 8 ½ digit multimeters have an innovated version that builds on years of proven technology and again offers users excellent accuracy and reliability. They are recognized worldwide as a standard among high-precision digital multimeters, providing both the speed and accuracy needed for research and development or measurements in calibration laboratories. The Keysight 3458 is the fastest, most flexible and most accurate multimeter ever made by Keysight Technologies.
Main features:
8½ digit resolution
24 bit digitizer resolution
8-ppm 1 year dcV accuracy (optional 4-ppm)
100,000 readings per second at 4½ digits
0.05 ppm dcV transfer accuracy
148K reading memory
Functions: AC/DC voltage, AC/DC current, 2 and 4 wire resistance, frequency, temperature, period, continuity test, diode test
Connectivity: GPIB, RS232

Brief comparison with the previous version of multimeters (until the end of 2016):
What remains the same?
- Dimensions, functions, control
- Technical parameters
- Programming commands
- Connectivity
- Accessories
What's new?
- RoHS compliant
- New look
- Upgraded internal circuits
- Extended memory (option 001) included
More information in the PRODUCT SHEET.
---
---
H TEST a.s.
Šafránkova 3
155 00 Praha 5
+420 235 365 207
+420 235 365 204
Newsletter
Product news, invitations for fairs, seminars and trainings. We send electronically max. 3 times/month.
© 2020 H TEST a.s.
Created by eBRÁNA s.r.o. | Powered by CMS WebArchitect | SEO a internetový marketing