---
GW Instek ASR-2000 Series Programmable AC/DC Power Source
11.12.2019 10:26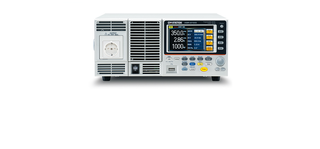 GW Instek introduced a new AC/DC power sources, which provide both rated power output for AC output and rated power output for DC output. There are 9 output modes available, from simple AC/DC power output mode (AC+DC-INT Mode) to external AC/DC signal synchronization mode (AC+DC-SYNC Mode).
The ASR-2000 series provides also waveform output capabilities to meet the test requirements of different electronic component development, automotive electrical devices and home appliance, including "sequence mode" to generate waveform fallings, surges, sags, changes and other abnormal power line conditions, "arbitrary waveform function" to store/upload user-defined waveforms or "simulate mode" to simulate power outage, voltage rise, voltage fall, and frequency variations.
Front panel of the ASR-2050/2100 provides a socket, is equipped with USB, LAN, External I/O and optional RS-232C and GPIB and can be used for both desktop applications and system integration.

Features:
Output Rating: AC 0 – 350 Vrms, DC 0 - ± 500 V
Output Frequency up to 999.9 Hz
DC Output (100% of Rated Power)
Measurements: Vrms, Vavg, Vpeak, Irms, IpkH, Iavg, Ipeak, P, S, Q, PF, CF
Voltage and Current Harmonic Analysis (THDv, THDi)
Remote Sensing Capability
OVP, OCP, OPP, OTP, AC Fail Detection and Fan Fail Alarm
Support Arbitrary Waveform Function
Output Capacity: 500 VA/ 1000 VA
Sequence and Simulation Function (up to 10 sets)
Interface: USB, LAN; RS-232+GPIB (opt.)
Built-in External Control I/O and External Signal Input
Built-in Output Relay Control
Memory Function (up to 10 sets)
Built-in Web Server
Closer information HERE.
Model prices are available on our webshop HERE.
---
---
H TEST a.s.
Šafránkova 3
155 00 Praha 5
+420 235 365 207
+420 235 365 204
Newsletter
Product news, invitations for fairs, seminars and trainings. We send electronically max. 3 times/month.
© 2020 H TEST a.s.
Created by eBRÁNA s.r.o. | Powered by CMS WebArchitect | SEO a internetový marketing