---
GW Instek LCR-8200 High-Frequency LCR Meter
14.10.2019 06:40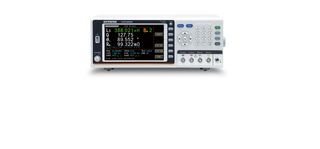 GW Instek launches a new series of high-frequency
LCR meters - LCR-8200, which has 4 models and the maximum test frequency is up to 30MHz. The entire series is equipped with 7-inch color display and features a high measurement accuracy (0.08%). The measurement results can be presented numerically or graphically according to the selected measurement mode. A full range of standard interfaces such as USB device / RS-232C / Handler and GPIB is included. Furthermore, the series also provides USB storage function when operating in the graphics mode. The measured characteristic curves and values of the DUT are saved for subsequent analysis. The wide variety of features of the LCR-8200 can help users easily respond to the test requirements of passive components in R&D, engineering, and production.
Main features:
Wide test frequency 10 Hz – 5 / 10 / 20 / 30 MHz
7" LCD color display
Basic measurement accuracy 0,08%
Display 4 measurement results simultaneously from 17 selectable measurement parameters
15 steps list measurement
Two curves sweep mode
Internal DC bias voltage ±12V
USB storage
Standard Interfaces : RS-232C, USB host/device, LAN, GPIB and Handler

Closer information HERE.
---
---
H TEST a.s.
Šafránkova 3
155 00 Praha 5
+420 235 365 207
+420 235 365 204
Newsletter
Product news, invitations for fairs, seminars and trainings. We send electronically max. 3 times/month.
© 2020 H TEST a.s.
Created by eBRÁNA s.r.o. | Powered by CMS WebArchitect | SEO a internetový marketing