---
Keysight EL30000 DC Electronic Loads
30.11.2020 11:25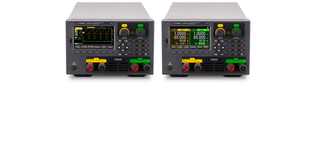 Keysight EL30000 Series bench DC electronic loads provide superior performance in compact bench form factor. A single and dual-channel model is available with up to 600 W – ideal for design verification of consumer power supplies, batteries, battery modules, solar panels, LED drivers, and power converters. You can easily characterize wide-bandgap semiconductor components such as MOSFET and IGBT.
The EL30000 Series bench DC electronic loads are fully SCPI programmable with built-in USB, LAN, and optional GPIB interfaces. Advance features include scope view, data logging, sequencing, and more, enabling you to measure, capture, and quickly display your results. The series includes single and dual input models:
EL34143A – Single input DC Electronic Load 150V, 60A, 350W
EL34243A – Dual input DC Electronic Load 150V, 60A, 300W (total 600W)
Dual input model EL34243A allows input parallel connection which increases maximum input current on 120A.
---
---
H TEST a.s.
Šafránkova 3
155 00 Praha 5
+420 235 365 207
+420 235 365 204
Newsletter
Product news, invitations for fairs, seminars and trainings. We send electronically max. 3 times/month.
© 2021 H TEST a.s.
Created by eBRÁNA s.r.o. | Powered by CMS WebArchitect | SEO a internetový marketing