---
Keysight´s new full compliance EMC reciever for CISPR and MIL-STD-461 standards
24.01.2019 07:04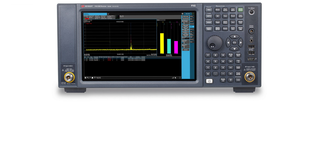 Keysight Technologies has launched a new full compliance EMC test receiver Keysight PXE (model no. N9048B) for testing not only acording to CISPR standards, but also to military standards MIL-STD-461.
The new receiver is available in three versions with a frequency range from 2 Hz to 3.6 / 8.4 / 26.5 GHz. With the new RF preselector and new low noise design, the new receiver has excellent noise level (DANL), amplitude accuracy and sensitivity. The Keysight PXE is also equipped with a new "multi-touch" user interface like other Keysight X-series signal analyzers.
For more information please visit www.keysight.com/find/pxe.
---
---
H TEST a.s.
Šafránkova 3
155 00 Praha 5
+420 235 365 207
+420 235 365 204
Newsletter
Product news, invitations for fairs, seminars and trainings. We send electronically max. 3 times/month.
© 2020 H TEST a.s.
Created by eBRÁNA s.r.o. | Powered by CMS WebArchitect | SEO a internetový marketing