---
Keysight´s new N5166B CXG multi-functional RF vector signal generator
01.08.2019 09:47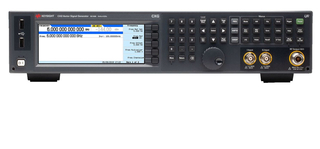 A new N5166B CXG generators complement Keysight´s portfolio of EXG and MXG RF vector signal generators on entry-level. CXG is a low-cost, multi-functional RF vector signal generator, used in general-purpose and educational applications.
It covers frequency range up to 6 GHz, with up to 120 MHz internal baseband generator bandwidth, offers offline Signal Studio waveform playback capability and finds its use in the areas of general-purpose receiver characterization, module-level stimulus/response test, small-scale manufacturing or IoT applications. CXG also provides a robust set of features, generating many types of signals, including CW signals, swept CW, analog modulation signals and vector modulation signal.
Main parameters
Frequency range: 9 kHz – 6 GHz
Frequency switching: 5 ms
Max. output power (at 1 GHz): +18 dBm
Level accuracy (at 1 GHz): ± 0,6 dB
SSB phase noise (at 1 GHz, 20 kHz offset): - 119 dBc/Hz
Waveform playback memory: 512 MSa
Modulation EVM (LTE): 0,2%

CXG generators provide a low cost-of-ownership - are designed for high reliability as well as fast, easy, and cost-effective calibration, service, and repair
Closer information and a product sheet can be found HERE.
---
---
H TEST a.s.
Šafránkova 3
155 00 Praha 5
+420 235 365 207
+420 235 365 204
Newsletter
Product news, invitations for fairs, seminars and trainings. We send electronically max. 3 times/month.
© 2020 H TEST a.s.
Created by eBRÁNA s.r.o. | Powered by CMS WebArchitect | SEO a internetový marketing