---
New Aim-TTi TGR2050 Series RF Signal Generators
11.12.2019 10:30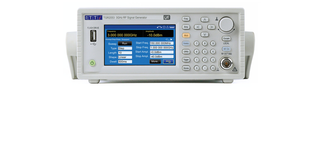 The Aim-TTi company introduced the new generation of RF signal generators, TGR2051 and TGR2053, offering both exceptional performance and new improved functionality with 4.3 inch touch screen operation. The high performance RF generators provide high frequency accuracy and stability, large signal amplitude range, low phase noise and flexible analog and digital* modulation capabilities making it ideal for development, test and service work. Advanced remote control accommodates sophisticated new automated systems and compatibility with Aim-TTI's previous RF instruments enables incorporation into existing systems. With a small footprint and lightweight design and the best price point / performance ratio in its class, the TGR2050 series maintains Aim-TTi's reputation for high quality, reliable, great value products.
*Digital modulation available with option TGR-U01
Main features:
150kHz to 3GHz (TGR2053) and 150kHz to 1.5GHz (TGR2051) frequency range
High signal purity, phase noise <-117dBc/Hz (typical) at 1GHz output and 10kHz offset
Amplitude range of -127dBm to +13dBm
0.1dBm amplitude setting resolution
Internal or external analogue modulations (AM, FM, PM). Amplitude can be set in dBm, dBμV or in linear Volts
Internal or external digital modulations - ASK, OOK, FSK, 3FSK, 4FSK, GFSK, MSK, GMSK, HMSK & PSK with U01 option
Modulation Synchronisation
Fast amplitude and/or frequency sweeps with comprehensive triggering
5ms sweep settling time
1ppm frequency accuracy, <1ppm drift in first year
Modulation waveform output on the rear panel
Internal waveforms include: Sine, Square, Ramp, Triangle, PRBS (various lengths) and user-defined pattern
Simple operation with the colour touch screen
Programmable via USB, LAN (LXI) and GPIB (optional), SCPI compatible
Compatible with previous Aim-TTi RF generators
Closer information HERE.
Prices of TGR2050 and other Aim-TTi RF signal generators are available on:
https://eshop.htest.sk/rf-signal-generators-aim-tti
---
---
H TEST a.s.
Šafránkova 3
155 00 Praha 5
+420 235 365 207
+420 235 365 204
Newsletter
Product news, invitations for fairs, seminars and trainings. We send electronically max. 3 times/month.
© 2020 H TEST a.s.
Created by eBRÁNA s.r.o. | Powered by CMS WebArchitect | SEO a internetový marketing