---
Perfect power duo – DC and AC regenerative power supplies Chroma 62000D & Chroma 61800
20.08.2020 08:40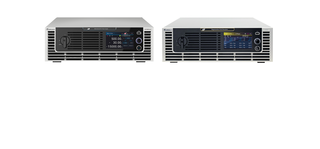 Our two newest Chroma's launches, the 62000D Bidirectional DC Power Supply and 61809/61812/61815 Regenerative Grid Simulators, are together a powerful duo for Power Conversion Device Testing.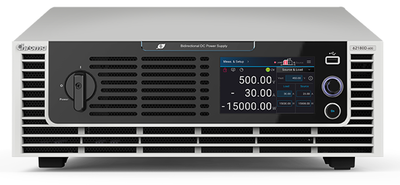 DC power supplies Chroma 62000D:
9 models with output power 6, 12 or 18 kW
Max. output voltage 100, 600, 1200 or 1800 V
Two-quadrant operation: source and load functions
Absorbed energy feeds back to the grid with a conversion efficiency up to 93%
Slew rate up to 180 V/ms
Advanced functions including battery simulation mode or automotive tests according to LV123 and LV148
Parallel connection of more units for total power up to 180 kW
More information can be found HERE.
---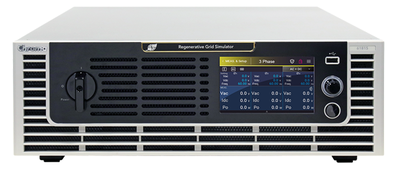 AC power supplies Chroma 61800 3U:
9, 12 or 15 kVA output power in 3U height only!
Single phase and 3-phase operation
Output voltage ranges up to 350VLN and 606VLL, 700VLN by a single phase 3-wire setup
Output frequency 30 – 100 Hz / DC
Full 4 quadrant, fully regenerative up to 100% of output current rating
Intuitive touch panel interface, standard USB, LAN interface, optional GPIB and CAN
Parallel connection of more units for higher power applications
Perfect solution for EV, PV inverter and smart grid related test applications
More information can be found HERE.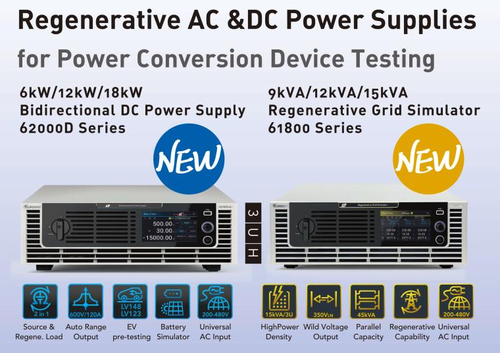 ---
---
H TEST a.s.
Šafránkova 3
155 00 Praha 5
+420 235 365 207
+420 235 365 204
Newsletter
Product news, invitations for fairs, seminars and trainings. We send electronically max. 3 times/month.
© 2021 H TEST a.s.
Created by eBRÁNA s.r.o. | Powered by CMS WebArchitect | SEO a internetový marketing